I think about what I would do if I won the lotto on a regular basis. It's just fun to think about all the things you would do if money wasn't an issue. So today I am linking up with Kristi and Holly to share my Lotto Winnings Dream!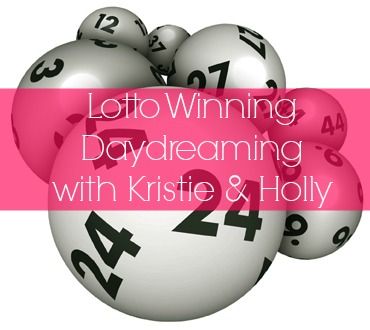 Here are the things I would do if I won the lottery:
Pay off our house, student loans, and any and all debt

Quit my job and do something that I'm truly passionate about (I actually always wanted to be a social worker and help others, but there was no money in it)

Give

money to all my family and anyone else that I really like :) Be nice to me, this may happen one day!

Take all of my family on a European Cruise (The best way to see other countries)
Take all of my family on a tropical vacation a year or so after the first trip
Build our dream home/castle (Yes, it would most likely resemble a castle, lol)

I would throw a fun party where all the food we ate was the cool minis I see all over Pinterest that I have no patience to put together
I would probably buy a lot of random crap. I love to shop and having lots of money would lead to completely unnecessary purchases.

I would then get mad at all the "junk" in our home and donate all the crap I just bought. This would be a vicious cycle.

Donate money to charities that actually use their money appropriately

I would remodel my mom's house to be the way she always dreamt it would be!
The last item is in bold because it's actually one of the top things I would seriously do if I won the lottery. My Mother is an incredible woman and someone who truly amazes and inspires me. She bought our house when she was pregnant with me (Close to 30 years ago now) and had grand visions of what her and my Father were going to do to the home. She has done a ton of things to the house over the years but nothing near what her original plans were. I'll keep it short in saying that my Father is not a good person and put my Mother through hell. But at that time, they were dreaming together and even had floor plans drawn out for the house and some major additions. It would have been amazing!
My mother still lives in that home to this day. We all grew up in that house, took our first steps in that house, had our first dates pick us up from that house, and had every holiday together in that house. It means a lot to all of us and the day my mom (if ever) moves out of it will be an emotional one for all of us!
But I wish she could see the home the way she always dreamt of it being. So with all the other fun things I would do with lottery winnings, this is the one that I would be most excited to do!
My Mom and I