I am so excited to link up and share my wedding day details. I hope you enjoy!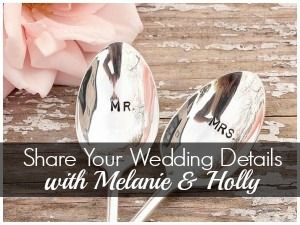 My Wedding Day - October 8, 2010
My husband and I were together almost eight years before we got married. We met February 20, 2002 and got married on October 8, 2010. Looking back, I wouldn't change a thing about my wedding day. I'm very fortunate!
We got married at
Van Hoosen Farm
in Rochester Hills, MI. It was absolutely beautiful. It's a gorgeous location and we couldn't have asked for better weather.
As we said our vows, we listened to the water flowing in the creek and the leaves blowing in the wind. It truly was beautiful.
Our First Kiss!
Our favorite time of the year is Fall! We love the colors, the temperature and the overall feel of this time of year. It just made sense for us to getting married in the Fall. I wanted everything to be Fall themed. My flowers were fall colors, the girls wore burgundy, the centerpieces were Lanterns will fall foliage surrounding them and the cake had fall leaves cascading down it.
I felt absolutely beautiful from head to toe! The clip that is tucked behind my ear is very special to me. It was worn by my Grandmother on her Prom night. That served as my something borrowed and something old. It had extra meaning since my Grandma passed away many years ago. It was my way of having her close on my wedding day.
Our invitations were fall themed as well.
We got our invitations
here
.
The bridal party consisted of our closest family and friends. My oldest brother gave me away. He's always been like a father to me and it meant so much.
Our reception was held at Sycamore Hills Golf Course in Macomb Township Michigan. The food was served family style and was absolutely amazing. The banquet hall and the restaurant have windows surrounding the entire place so it has a great ambiance for a wedding reception.
For our first dance together, Jim and I danced to Angel by Aerosmith.
For the Brother/Sister dance (replacing the Father/Daughter Dance) we danced to Heaven by Warrant
My favorite thing that we did for our reception was the photo booth! Everyone had a good time and we were able to capture almost everyone that came to the wedding. Instead of a sign in book, people took their pictures in the photo booth and then placed it in a scrapbook and wrote us a message. It was amazing! Oh...and everyone had a blast with it!!!
The next day we left for our honeymoon! Our honeymoon consisted of 3 days in Rome (2 days before our cruise and one day after) and a 12 night Mediterranean cruise to the following destinations:
Our honeymoon was absolutely amazing! We got to see
the world together, have 2 weeks off and met some lifelong friends cruising. If I were to blog about our honeymoon, I would need to do a post for each location because we did so much. It was a trip of a lifetime!