Quick Note: If you don't already follow me on BlogLovin, please follow me HERE.
Google Reader will be no longer at the end of the month. :(
I had to double up one day due to my son being sick. (Ear infections are awful!) I highly recommend not needing to double up in a week when you have to do 100 walking lunges...just putting that out there!
As usual I am linking up with Skinny Meg to talk about my progress for the week.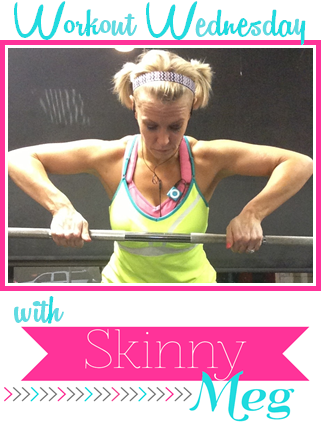 Each week this challenge consists of 3 days strength training, 3 days of cardio and one rest day. There were three strength training exercises this week and I will elaborate on how I did for each one.
Death March. This will seriously make your legs feel like jelly but you will definitely feel it. I got better each time I did it. I think my balance got better each time and that's how my time improved.
One Arm Windmill - harder then it looks! The first day I stared with a weight and I struggled with my form so I did it without the weight. The second and third day I was able to use a 5 pound weight but really struggled with my left arm.
I have to be completely honest and say that I could not do these. I did the first position and then I just didn't have the balance/coordination to do the positions on the left and right. So I help position one for 30 seconds, then did a 45 second plank. I did this 3 times.
This morning I made a fruit & Spinach Smoothie. This is a great breakfast smoothie and is also great for after a workout. And honestly, you can't taste the Spinach!
Ingredients:
Blend & Enjoy! This makes enough for one smoothie.
I am also happy to report that my little guy is feeling much better, but now has 4 teeth pushing through...yes...FOUR! It usually only takes a few days and once they push through he is back to his happy self. Since he is teething, he insisted on only eating the hamburger bun last night for dinner. My little carb monster...
Tomorrow I am linking up with Holly and will be blogging about my wedding day. I am super excited to share this. Come back tomorrow to check it out! :)