Today I am officially on Day 56 of the Bikini Body Mommy Challenge and am linking up with PregMeg to talk about my progress for the week!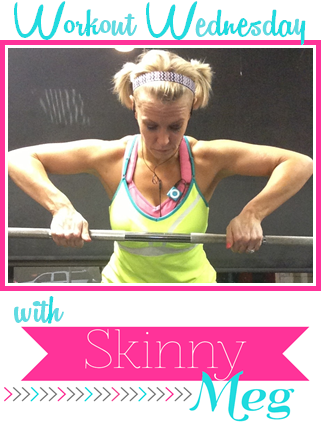 This week was a little crazy for me. My son had a double ear infection and had a horrible reaction to the antibiotic. That had us in and out of the doctor all week, then add in a holiday, it was just crazy. This made for some long nights and days full of cuddling.
I am happy to report that he is feeling 100% better as of today!
I doubled up a few days and I never wrote down my reps. :( But I know I got better each time. I'm just glad I got through all the exercises and stayed on track.
The cardio this week was a little bit different. You had to do 20 minutes of high intensity interval training. That means 1 minute of jump rope or climbing stairs at your best speed, then resting for a minute. I really liked doing this!
I enjoyed this cardio because I felt like I burned a lot of calories and worked up a good sweat! And best of all, it only took 20 minutes and it can be done in the living room with my son right there! He likes it too because he is entertained! ;)
I have not gotten back to eating 100% the way I want due to the craziness over the last week with Zach, but there is no excuse for this next week. The one positive thing I can say is that I have been making Spinach fruit breakfast smoothies EVERYDAY! Now that I have been doing this, it doesn't seem like a lot of work and has definitely become a habit. Check out my favorite recipe HERE.
Lastly, I can't leave without posting a picture of Zach from Fourth of July! He has such a little personality and now makes faces when I get out the camera! You can follow me on Instagram @throughcrystalseyes