It's that time again! Weekly Goals Check In and Weekend Recap!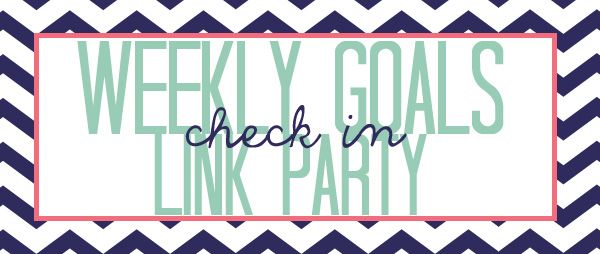 But first I have to share a non-scale victory. I went to Old Navy over the weekend to pick up a pair of shorts. All of my shorts are too big now. I can wear them, but they don't look good because they look baggy. I grabbed a few sizes. Six, eight & ten to be exact. Honestly, I grabbed the 6's just to see how far I had to go to get them on...THEY FIT! Ahhhhhhh, I can't believe it! But I'm still in a size 10 pant, I don't get it. Oh well. For the first time in a long time, I didn't dread the fitting room and that feels good!
Continue Bikini Body Mommy Challenge.

Done. I am seriously rocking this challenge!

Work on Project Life for 2013 for 30 minutes 3 days a week.

Only worked on it 2X.

Pack lunch 3 days this week.

Done.

Try a new Vegan recipe.

Fail. But I bought all the stuff to try one this week.

Drink more water.

Done. I definitely drank more then last week, but think I still need to up the amount.

Organize/Purge the kitchen. 1/2 Complete.

I'm just trying to go through each cabinet while I'm making dinner at night, so it may take longer than anticipated.
Continue Bikini Body Mommy Challenge

Pack lunch 4 days this week

Make a breakfast smoothie 2 times this week

Drink more water - Goal is 4 bottles a day

Continue & Finish organizing/purging the kitchen
On Friday, the little man and I went to dinner with Grandma after work. He was really well behaved considering our food took forever! But he enjoyed his fries and cheese quesadillas.
On Saturday morning we all went down to the Eastern Market in Detroit and Zach had a good time. He was waving at people as they walked past and also starring some down. He's such a people watcher.
He got to "play" a little bit!
When we were done downtown, we went to the mall to do a little shopping and let Zach run
around since the weather was so crappy out. (Seriously Michigan...where is summer?) He had a good time playing with the other kids and climbing all over everything.
Random Thought: The structures at the play place were summer picnic foods. As parents we looked around and said "This is not a good meal". The meal consisted of corn on the cob, a hot dog, coke, banana and a cupcake. We were pretty amused.
On Sunday, during Zach's nap, I went
to visit my friend who just had her baby. She is 11 days old here and is absolutely precious. I had a great visit and it makes me ready for
another! I can't believe Zach was ever tiny!
(He was 9lbs 1oz at birth and grew SO fast...as in above the 100th percentile at every check up)
Hope everyone had a wonderful weekend!