Today I am officially on Day 28 of the Bikini Body Mommy Challenge! I sadly need to admit that I missed a day this week (yesterday) because my son was sick. Turns out he has a severe ear infection! :( This is our first experience with that and he was so miserable. He is feeling much better today after seeing the doctor. Due to missing the day, I am going to do extra cardio throughout the week to make up for it.
As usual I am linking up with Skinny Meg to talk about my progress for the week.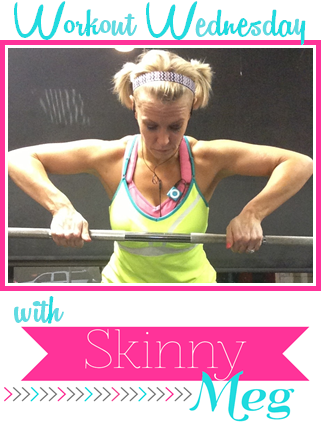 This week consisted of five strength training exercises done 3 days and 3 days of cardio. Here are my stats for the week:
| | | | |
| --- | --- | --- | --- |
| | 5lb weight | 8lb weight | 8lb weight |
| | Day 22 | Day 24 | Day 26 |
| Squat, Curl, Press | 41 | 37 | 37 |
| Teeter-Totter Lunges | 14 | 15 | 16 |
| 3 Part Shoulder | 19 | 19 | 21 |
| Bent Over Rows | 28 | 25 | 29 |
| Extended Plank | 1:00 | 1:00 | 1:10 |

The first time I do an exercise, it's almost like I'm testing it out. I first used a 5 pound weight because it seemed as though some of them would be really tough. (Remember, I'm a wimp when it comes to arms). But after doing the first day of these exercises I realized I could use an 8 pound weight. It's all about knowing what you can handle.

I have also been trying to incorporate smoothies into my daily routine. It's a quick and easy breakfast and SO healthy for you. Kale is so great for you and is a good source of Vitamin C. This smoothie kept me feeling full till about 10:30!



Yesterday I was feeling so exhausted from being up all night with my son that I really neded a pick-me-up. I've always heard that having a juice will help with your energy level and it DID! We all went out to lunch at work yesterday and I ordered a carrot, beet, celery & apple juice! I also had the vegetarian grapeleaves! Although it was eating out, I still felt good about what I had.