Last week was great on so many levels. I was able to take two days off work. Thursday and Friday. Thursday was beautiful so we had lunch at the mall and let our son play. After nap time, we went to a friends house for a last minute BBQ. Zach ran around the yard, and discovered that he loves the sandbox! We ended the evening with Zach having his first ice cream cone!
I did my first 5K in 3 years (almost to the day) and it went great! I will talk more about that tomorrow. :)
Here is a recap on my goals from last week.
1. Drink one juice EVERY DAY! -

This was a bit ambitious. I drank 4 juices last week. Not bad, but need to be better. I will include this in my goals this week.
2. Organize shelves in laundry room
I'm half way there. I need to purchase some new bins next weekend to get this 100% completed.
3. Continue to do Squat & Ab challenge daily.
Done!
4. Run once before my 5K this weekend (Color Run is Saturday morning).

Fail! :/ But I did run the ENTIRE 5K (Check back tomorrow for my Color Run Recap)
5. Shop at Trader Joe's OR Whole Foods once during the week on my lunch.
Shopped at Whole Foods over the weekend. (Ended up taking a couple vacation days this week so didn't need shop on my lunch hour)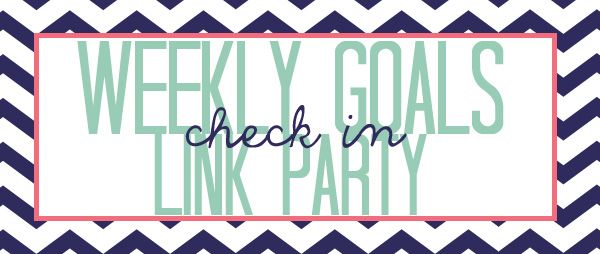 1. Continue Squat & Ab Challenge daily.
3. Finish laundry room this weekend
4. Pack lunch 3 days this week
5. Research doing another 5K
I need to continue setting small/achievable goals each week and continue doing some type of exercise daily...even if it is the Ab & Squat Challenge.