Something fun for today! I'm not really that funny, but I'm linking up anyway. Enjoy!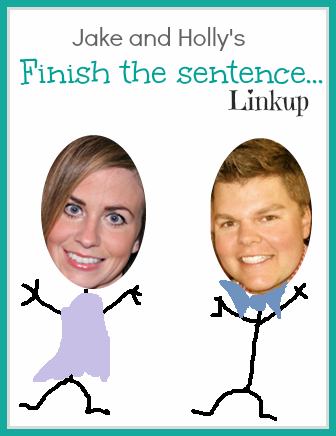 If I had one extra hour in the day...I would want do a project around the house or scrapbook...reality check...I would probably sleep!
I wish my name...was Autumn. I know this sounds strange, but I've always thought that would be fun since my birthday is the first day of Fall. And sometimes I feel like Crystal is a stripper name. Weird.

Don't worry Mom, I like my name!
I think anything chevron is...FUN! I like it, but I bought a chevron shirt that looked awesome on
MaMa Laughlin
and it didn't turn out so well. Maybe I should just get a chevron cell phone case?
My last nightmare...there was a Zombie Apocalypse and we were trapped in our house for months rationing food (I never want to ration food, I need a lot of it!) People were going crazy outside but for some reason the zombies left us alone. Probably shouldn't go see World War Z before bed!

Awesome movie by the way.
Sometimes... I want to go back and finish my Masters. I eventually will, but it may be a while.
My last meal on earth would be... Crab legs (that are already cracked for me, It's my last meal, Ain't nobody got time for that), loaded baked potato, Key Lime Pie, and beer.
I would much rather... be at the pool right now trying to get a tan. For real!
Mayonnaise... seems weird now that I know what goes into it and how its made. I used to love it but it kind of creeps me out now, but that doesn't stop me from eating Potato Salad or Macaroni Salad at a BBQ. Yum!
10 years ago, I didn't think... that there was ever going to be anything cooler than my Razr flip phone. I could text one handed on that bad boy without ever looking down.
Selfishly... My husband and I are going to San Francisco in September for my 30th birthday to visit friends without the kiddo. We are super excited! We will miss him, but I can't imagine traveling with a 18th month old with such a long flight and layovers. We will take him when he's older.
My favorite show on TV right now... Continium, Revolution, True Blood and Copper. I don't know if these are actually on right now, but we watch them On Demand and on Netflix. SO addicting!
And, George Zimmerman... no comment. I'll leave this to others who want to debate.
On that note, here's a couple fun pictures I've posted on Instagram lately. You can follow me HERE.
Bath Time Fun!



Getting my butt kicked at Slaughter Boot Camp